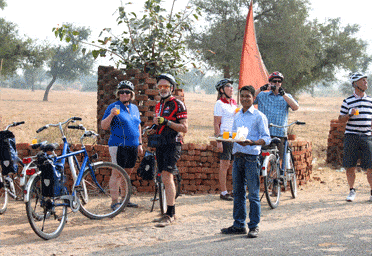 COMPANY INTRODUCTION
We India Cycle Trails specialise in the non-traditional way of exploring the rich cultural heritage of India with an emphasis on "Local experinces" and interactive holidays.
We offer travel experiences from the Mighty Himalayas in the North to the Palm-fringed beaches of the South from Ethnic Tribes of the North East to the colourful Thar Desert of Western India.
Headed up by Digvijay (Divi) Singh, a 17-years veteran of adventure travel in the Indian subcontinent, India cycle Trails is based in Dehradun, the capital Uttarakhand which is located in the foothills of the Himalayas between the Ganges to the east and the Yamuna to the west.
From the moment your tours starts with collection from the Airport to the time you depart, you will be looked after by the India Cycle Trails team. They are the local tour operator.
Each itinerary is carefully crafted to ensure that you not only see the best sights but also get an insight into Indian life at a local level.
Accommodation is carefully selected to add to the experience and range from beautiful heritage stays, well -appointed hotels and "Lesser-known beach resorts to boutique plantation and wildlife resorts and homestays.
Cycle hire is included on each tour and we own our own fleet of Cycles that set up for cycling touring in India.